Posted by Kaylyn Brians on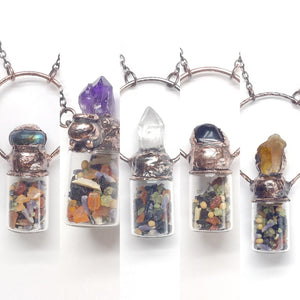 Sometimes we need a little help bringing positivity into our lives. This is the inspiration behind these enchanted little bottles.  
Posted by Kaylyn Brians on
The calm stability of blue and the fierce energy of red combine to create the color purple. Purple is one of the three secondary colors. As a combination of red and blue it is neither warm nor cool. The color purple is a rare occurring color in nature and as a result is often seen as having sacred meaning. Purple is also associated with royalty, nobility, luxury, power and ambition. And represents meaning of wealth, extravagance, creativity, wisdom, dignity, grandeur, devotion, peace, pride, mystery, independence and magic. Purple has a variety of effects on the mind and body, including uplifting...
Tags:

ambition, amethyst, color, color meanings, creativity, design, devotion, dignity, independance, lavish, luxury, magic, metaphysical, mystery, nature, peace, purple, royalty, spirituality, the power of purple, wisdom